Red Bean Boba – a bean twist on Bubble Tea
Boba milk tea bursting with chewy tapioca pearls is a familiar comfort drink to many. But have you tried the growing trend of red bean boba? This variety swaps the traditional black tapioca pearls for sweet red bean paste balls. Red bean boba also known as sweetened red beans is a popular ingredients in lots of asian cuisines.
Read on to learn all about this creative boba style. We also included a matcha bubble tea with red bean boba recipe in the recipe card.
What's Red Bean Boba
Red bean boba offers a fun new twist on classic bubble tea. Rather than tapioca starch, these "pearls" are made from adzuki bean. Adzuki beans are red beans common in Asian cuisine, popular in Japan and China.
To make red bean boba, dried adzuki beans are boiled until softened, usually with sweeteners. It is quite sweet because of the sugar added.
Red bean bubble is essentially a standard milk tea or a clear tea base complemented or topped with sweetened red beans. It also goes super well with match milk tea. The two are a perfect match.
Red bean boba vs Tapioca boba
Red bean boba has some key differences from traditional tapioca boba in terms of ingredients, making process, taste and texture.
| Tapioca Boba | Red Bean Boba |
| --- | --- |
| Made from tapioca starch | Made from adzuki bean paste |
| Clear or black color | Dark red color |
| Neutral flavor | Sweet bean flavor |
| Very chewy | Less chewy, softer, grainy and starchy |
History and Origins of Red Bean in Asian Cuisine
Long before the boba trend, red beans, known as 'adzuki beans', held a significant place in Asian cuisine because of it's sweet profile and rich, grainy texture. Consumed predominantly in East Asian countries like China, Korea, and Japan, these beans have been used to make traditional desserts like 'anko' (red bean paste), 'patjuk' (red bean porridge), and 'zongzi' (sticky rice dumplings with red bean).
It was only a matter of time before this traditional ingredient found its way into the modern world of bubble tea. And it gets great popularity here.
Red Bean Boba Nutrition
Boba made from red bean paste has some nutritional upsides compared to tapioca versions. Some benefits include:
More protein – Adzuki beans provide more protein than tapioca pearls. Just 1⁄4 cup of beans has 7g of protein.
Lower glycemic index – Red beans have a lower GI than straight tapioca starch, meaning less impact on blood sugar.
More fiber – Red beans contain around 5g of dietary fiber per 1⁄4 cup serving. Tapioca has none.
No added sugar – Plain red bean paste uses no added sweeteners, unlike some flavored boba.
Of course, any milk tea, juices, or toppings added to the red bean boba can impact its nutrition. But on their own, red bean pearls are arguably a healthier choice than their starchy counterparts.
What does red bean boba taste like
The primary taste profile of sweetened red beans is a sweetness. Unlike the overwhelming sugary hits from some desserts or sweeteners, red beans offer a nuanced, mild sweetness. This characteristic makes them versatile in both desserts and drinks.
Beneath the sugar-infused layer, red beans retain their inherent earthy and nutty flavor, which is reminiscent of many legumes. This deeper taste provides a grounding balance to the sweet overtone, making it a rich and layered flavor experience.
Texture:
Red bean boba achieves a texture that's soft but not overly mushy. They should give way under gentle pressure but still retain some structural integrity to provide a satisfying mouthfeel.
The inner texture of the beans, even when softened, maintains a bit of its natural graininess. This gives the beans a pleasant, subtle bite and a contrasting texture in creamy desserts or drinks.
Sweetened red beans offer a delightful combination of understated sweetness paired with a fulfilling, soft, yet grainy texture. Their unique taste and texture profile make them a cherished ingredient in many traditional Asian desserts and modern culinary creations.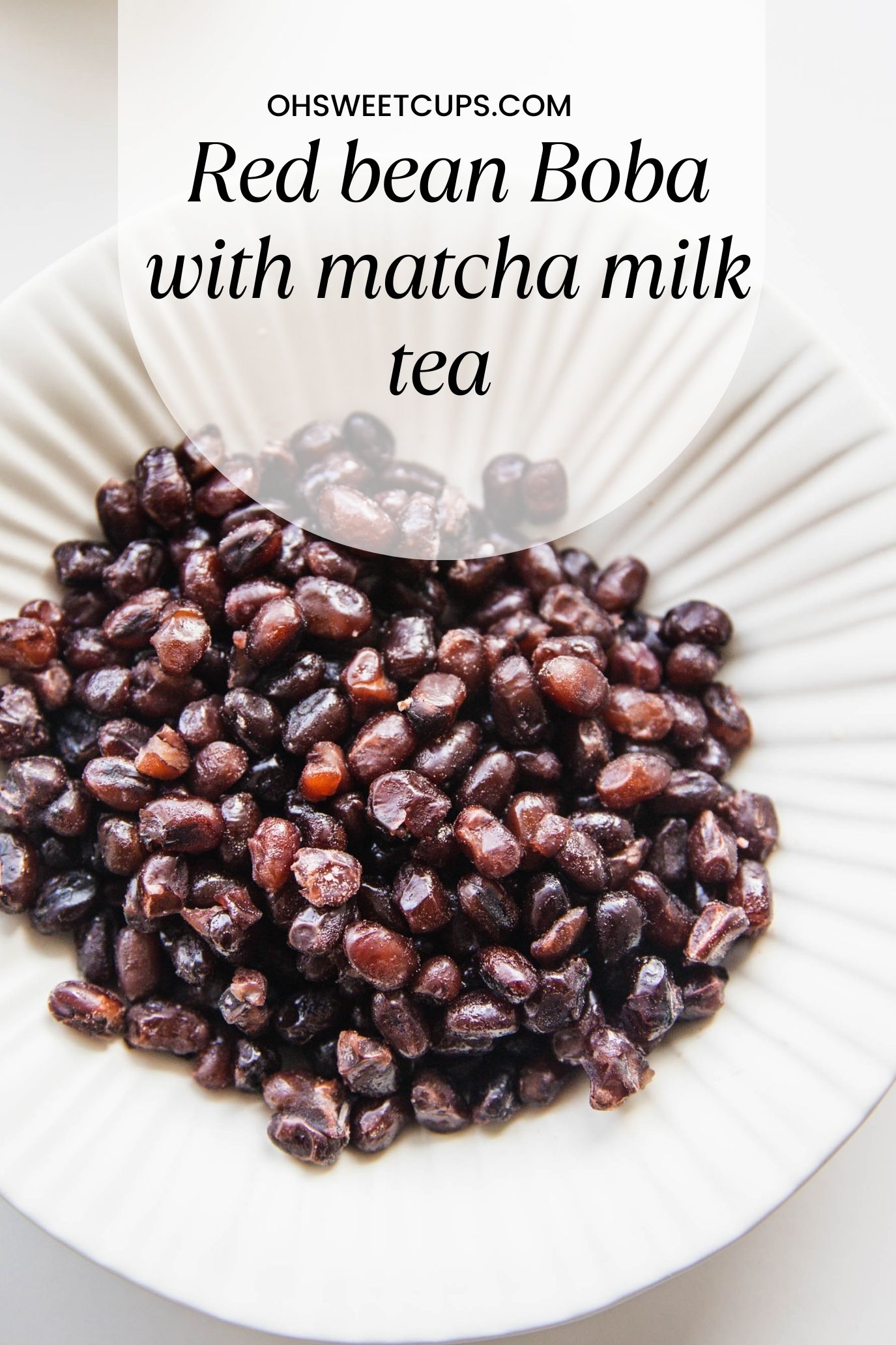 How to make Red Bean Boba at home
For DIY enthusiasts, making red bean boba at home is a rewarding experience. Here's a simple recipe. We also included a recipe to make a matcha red bean boba.
Ingredients
1

cup

Dried adzuki beans

3

cups

Water

1/2

cup

Sugar

based on preference
For matcha red bean boba tea
3

tbsp.

sweetened red bean paste

1

cup

milk

2

teaspoon

matcha powder

3

tbsp.

warm water

1

tbsp.

sweetened condensed milk

divided
Cream topping
a small pinch of salt

2

tbsp.

whipping cream

1

tsp.

sweetened condensed milk

,or simple syrup
Instructions
Red Bean Preparation: Soak the adzuki beans overnight.

Add soaked red bean and sugar in a sauce pot, pour in water. Bring everything to a boiling, cook for 15 minutes. Then stop the fire, let it stay until cooled, then re-start the fire to cook it until really soft (take around 30 to 40 minutes).

Or a simpler way is to use instant pot, by using bean procedure.
Matcha red bean boba tea
Whisk match powder with warm milk and half of the condensed milk until the matcha powder is completely dissolved.

In a serving cup, add red bean boba at the bottom. Pour in milk, add another half of sweetened condensed milk and then stir well. Pour in matcha mixture.

Then in a super small cup, whipping cream with a very small pinch of salt and condensed milk.

Pour the whipped cream on top of the milk base. Then gently top the red beans on it.

Tea Preparation: Brew your chosen tea and let it cool. If you prefer milk tea, add milk or a milk alternative.

Serving: In a glass, add a layer of sweetened red beans, followed by boba pearls. Pour in the tea, add ice if desired, and enjoy!
Nutrition
Calories:
455
kcal
Carbohydrates:
51
g
Protein:
17
g
Fat:
20
g
Saturated Fat:
12
g
Polyunsaturated Fat:
1
g
Monounsaturated Fat:
5
g
Cholesterol:
69
mg
Sodium:
126
mg
Potassium:
467
mg
Fiber:
1
g
Sugar:
44
g
Vitamin A:
1282
IU
Vitamin C:
1
mg
Calcium:
384
mg
Iron:
2
mg
How to use red bean boba in other creative ways
You can use red bean boba to replace tapioca pearls in any kinds of milk tea, beverages or desserts. And following are some extra ways of using it. Here are some innovative ways to incorporate this fusion ingredient into different dishes:
1. Red Bean Boba Ice Cream:
Whisking red bean boba into your favorite ice cream base to create a creamy dessert with the sweet and grainy textures of red beans is a lovely idea.
2. Red Bean Boba Pancakes:
Red bean boba pancake is a very popular Asian breakfast, either made with all purpose flour or sticky rice flour.
3. Red Bean Boba Mochi:
Mochi is a Japanese rice cake made from glutinous rice. Incorporate red bean boba into the filling for an exciting twist on the traditional red bean mochi. The combination of the chewy mochi skin with the grainy red beans and boba pearls is a texture lover's dream.
4. Red Bean Boba Waffles:
Similar to the pancake idea, you can also incorporate red bean boba into your waffle batter. Serve it with whipped cream or a scoop of vanilla ice cream for a delightful dessert or breakfast treat.
5. Red Bean Boba Pudding:
Make a standard milk or coconut milk pudding and layer or mix in red bean boba for a dessert that's both creamy and chewy.
6. Red Bean Boba Smoothie Bowl:
If you are a smoothie lover, you can mix red bean boba with almost all types of smoothies, either banana smoothie, or simple green smoothie. It will add extra lovely texture to any type of smoothies.
7. Red Bean Boba Cakes:
From cupcakes to layered cakes, the inclusion of red bean boba can add a delightful surprise to your baked goods. Either layer them within the cake or mix them into the batter for a scattered effect.
Recipe FAQ
How does red bean boba taste compared to regular boba?
Red bean offers a mildly sweet, grainy texture that contrasts with the chewy tapioca pearls. It adds depth to the drink's flavor profile.
Can I use canned red beans?
While dried beans are preferable for their flavor and texture, canned beans can be a time-saving alternative. Just ensure they are rinsed thoroughly.
Is there caffeine in red bean boba?
The caffeine content depends on the tea base you choose. If you're sensitive to caffeine, opt for herbal teas or a decaffeinated version.
So if you love boba, try out this novel twist on traditional tapioca pearls. The sweet red bean flavor and smoother chew make for an indulgent and comforting sip.