Dirty Boba – Messy Brown Sugar Bubble Tea
Do you love the lovely brown sugar strips on the boba tea cups? They melt as you drink the tea and it adds so much fun to the classic bubble tea. Let's find out how to make dirty boba or dirty bubble tea at home and go further to more interesting dirty boba recipes.
What's dirty boba   
Boba, also known as bubble tea or pearl milk tea, originated in Taiwan in the 1980s. It's a delightful blend of milk tea and tapioca pearls, offering a mix of creamy and chewy textures.
Dirty boba became popular mainly because of Tiger, a famous bubble tea brand. In this type of drink, brown sugar is simmered into the thickened syrup form and can form strips on the cups of the bubble tea.
As it becomes more and more popular, lots of boba shops like Gong Cha are also providing brown sugar boba tea now.
The name "dirty" doesn't imply anything unclean about the drink. Instead, it refers to the appearance of the drink, which often looks "muddied" or "dirty" due to the mixing of the brown sugar syrup with the milk.
Then this description evolved into different forms of attachments on the glass, which might be strawberry jam, mango jam, chocolate sauce, and even crushed Oreo. We will discover all of this one by one.
What's the taste of dirty boba
Classic brown sugar dirty boba has a caramelized sweet and creamy taste. Other variations may have different tastes based on the milk choice (chocolate milk or match milk) and the dirty efforts ingredients. For example, if strawberries are used, the dirty strawberry boba will have a lovely strong sweet, and sour taste with fruity strawberry notes.
Why I love it
Most of the dirty boba can be made at home easily, requiring super simple and easy ingredients. For classic dirty boba, we need only 4 ingredients.
It is super enjoyable to drink the boba as it changes along with the drinking process. Different forms and statuses make it a lovely journey.
Most importantly, it tastes super good.
Essential Ingredients
Boba Pearls: These are boba for this drink. Regular black boba pearls are a common choice for dirty boba. You can make it at home, or buy a quick boba or even a instant boba which is ready to use.
Brown Sugar or brown sugar syrup : The sweetener that adds deep, molasses-like flavor.
Milk: 2% whole milk is most commonly used. Half and Half will create an even creamy taste. For a dairy-free version, you can use almond milk, oat milk, soy milk, or any other milk of your choice for a dairy-free version.
Tea (Optional): tea base is optional. Classic brown sugar dirty boba does not contain a tea base in Taiwan. It is called tea because, in the Chinese language, tea is used to refer to drinks. Dirty Boba sometimes includes tea, usually a strong black tea. But based on your variation options, jasmine green tea, and oolong tea has been popular choice too.
Tips about the consistency of the syrup
The thickness of brown sugar syrup for making dirty boba can vary depending on your plan to serve your dirty boba. If the warm versions, the syrup will melt quickly, so a thicker texture is recommended.
For iced dirty boba, just make sure the syrup is thick enough to coat the back of a spoon. This ensures that the syrup will stick to the surface of the serving glass. Adding ice cubes can help it to form a dirty appearance.
You can see in the two pictures below. Different consistencys of the brown sugar syrup will create different dirty patterns on the glass. So which one is your favorite?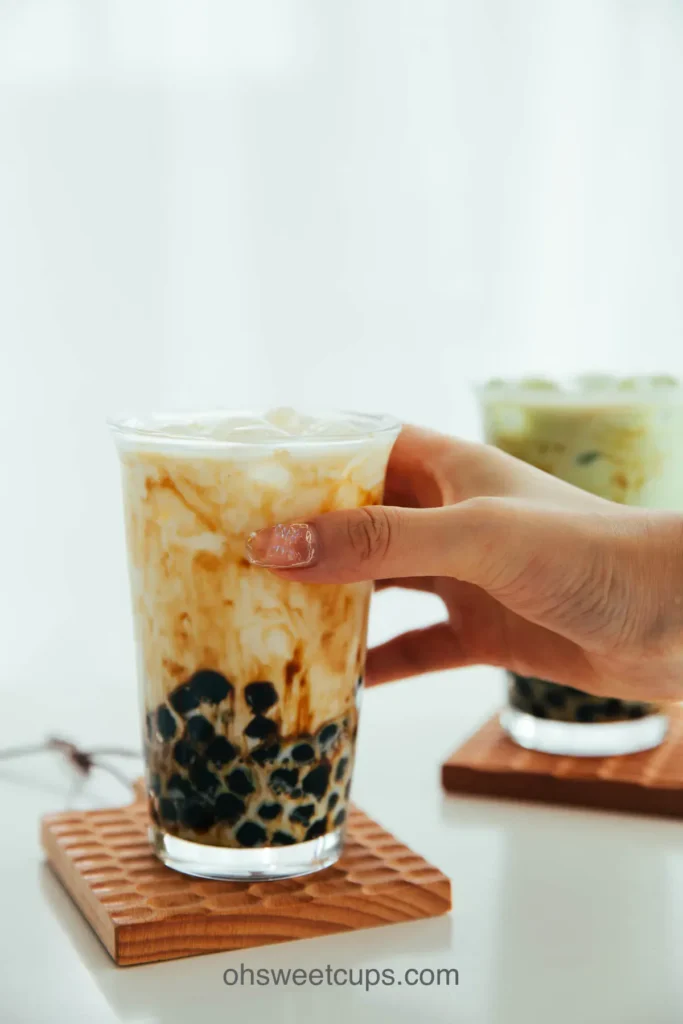 Related reading: Love green color boba drinks? check out matcha milk tea and our honeydew boba tea.
Dirty boba
Homemade dirty boba with brown sugar
Ingredients
Brown sugar syrup boba
1/4

cup

boba pearls

4

tbsp.

brown sugar

1/4

cup

water 
each serving of classic brown sugar dirty boba
2

tbsp.

cooked boba pearls with brown sugar syrup

1

tbsp.

sweetened condensed milk

, optional

1

cup

whole milk

ice cubes optionally
each serving of Match dirty boba
2

tsp.

matcha powder

1

tbsp.

condensed milk tea

, optioinal

50

ml

hot water

200

ml

whole milk

ice cubes optionally.
Instructions
Cook the boba pearls
 Read the instructions on the package and see which type of boba pearls you bought.  Heat a large pot of water to a boil and then add boba pearls. Cook for the required time (maybe 20 minutes or maybe 5 minutes). Then let them sit covered for another required time until they're soft and chewy.

Strain and rinse under running water or you can choose to soak in iced cold water. This is the key step to avoid them becoming sticky together.

Then take out and strain. In a small pot, add clean water, brown sugar, and cooked boba pearls, continue to cook for another 5 minutes until the brown sugar thickened ( note 1)
Assemble classic brown sugar dirty boba  
Take 2 or 3 spoonfuls of boba pearls, already attached with the syrup to the glass cup. Rotate to drizzle evenly or use a scoop to help. Add sweetened condensed milk if using.

And then add fresh milk to complete. This is the version with a tiger strip from the Tiger brand. Stir before enjoying to make sure the taste is well-mixed. 
Assemble matcha brown sugar dirty boba
Whisk matcha powder with hot water and condensed milk.

Take 2 or 3 spoonfuls of boba pearls, already attached with the syrup to the glass cup. Rotate to drizzle evenly or use a scoop to help. Add fresh milk to complete. Then pour in the matcha. Stir well before enjoying.
Video
Notes
Note 1: you can make the brown sugar syrup in larger batches and then store it for other recipes. Check this for the tutorial.  
Nutrition
Calories:
237
kcal
Carbohydrates:
41
g
Protein:
7
g
Fat:
5
g
Saturated Fat:
3
g
Polyunsaturated Fat:
0.2
g
Monounsaturated Fat:
1
g
Cholesterol:
20
mg
Sodium:
70
mg
Potassium:
270
mg
Sugar:
29
g
Vitamin A:
421
IU
Vitamin C:
0.1
mg
Calcium:
216
mg
Iron:
1
mg
Calories
A 300ml cup of dirty boba with whole milk and 2 tablespoons of cooked boba pearls have approximately 260 calories. You can lower the calories by replacing whole milk with plant-based milk.
Variations
Strawberry dirty boba
In this version, strawberry jam or strawberry puree is used to create a lovely appearance instead of brown sugar. It has a beautiful pink look. It will be best to match it with strawberry milk.
Chocolate dirty boba
Cocoa powder and chocolate syrup are great ingredients to create a chocolate color dirty boba. This chocolate-dirty boba will have a more dramatic look.
In addition, crushed Oreo cookies make a similar appearance too.
Dirty matcha boba
One of my favorite ways of drinking dirty boba is to add a layer of matcha milk tea. See, how pleasing the brown color and green color come together.
Mango dirty boba
Mango dirty boba has a yellow look, using mango jam as the inside hanging material.
Taro dirty boba
If you are making a taro boba with taro paste, a dirty appearance can be achieved by the taro paste.
FAQs
What does 'dirty' mean in dirty boba?
It refers to the marbled, streaked appearance of brown sugar in the drink. Thick brown sugar syrup is the key factor of the messing look.
Is dirty boba sweeter than regular boba?
Generally, yes. The caramelized brown sugar adds a deep sweetness, making it richer than traditional boba.
Can I turn dirty boba into vegan-friendly?

Yes, you can use plant-based milk alternatives like almond milk or coconut milk and ensure the brown sugar doesn't contain any animal-derived ingredients.
What's next
So I hope you love this unique dirty boba recipe we bring you and hope you can make more exciting and lovely dirty boba creations.