Honeydew Milk tea– Honeydew boba
Creamy, full of fruity flavor, with a lovely plain green color, yes, this is the unique honeydew milk tea or honeydew boba. It is the most popular melon boba drink.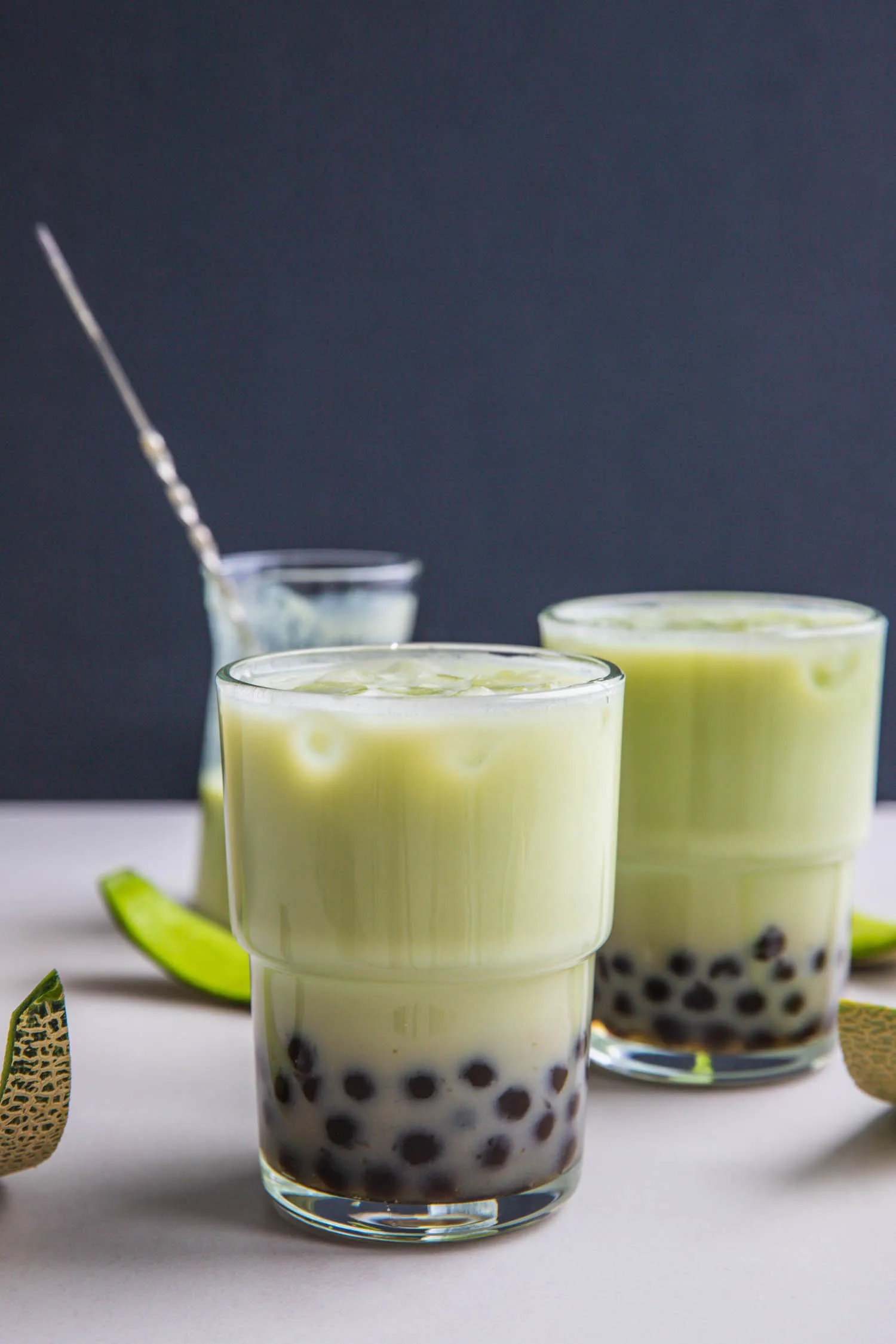 Are you a fan of fruit-based milk tea or traditional milk tea including brown sugar milk tea, and honey boba?
Although I love both of them, I still think fruit boba or fruit milk tea is much more interesting and more colorful than regular groups.
I believe some of you will be attracted by the lovely color of some famous milk tea including purple taro milk tea, pink strawberry milk tea, and green matcha milk tea, this one has a lovely lighter creamer green than the common matcha boba.
What does it taste like
Just like other types of milk teas, honeydew milk tea is sweet and creamy. But the sweetness is somewhat different from the taste of brown sugar syrup or other syrups. It has a fruity undertone and a strong aroma from the melon. It will be quite unique and I bet you will love it.
Note: cut only the flesh and avoid those parts very close to the shell, otherwise it might present a bitter taste.
Ingredients for honeydew milk tea
Honeydew
honeydew is a type of melon fruit, just like watermelon. Ripe honeydew has a soft flesh similar to watermelon, but a little bit softer.
The lovely pale green color of the flesh makes it quite unique among melon fruits. Although the flesh has a green color, it is a sweet fruit. It contains natural sweetness and not enough to highlight the whole glass of drink. So, it means you will still need some sweeteners to balance the bitterness of the tea.
Sweeteners
I use honey for this one. Simple syrup, maple syrup, or any other type of choice can be used.
Boba pearls
Boba pearls are the essential ingredients in all boba teas. The common boba pearls are made from tapioca starch and are called tapioca pearls. Chewy, round, and black in color, those boba pearls can form a lovely add-on to all milk teas or fruit-based tea drinks.
Black boba pearls are added to the drink to create a lovely bubble style. You can use other types of boba like crystal boba or popping boba. But Darker ones can form a better-looking comparison than light-colored ones.
Matcha powder
I add 1/2 teaspoon of matcha powder to improve the green color. It is optionally, with if you skin matcha powder, the drink will become even lighter in color.
You can choose to increase the amount of 1 teaspoon to make it more vibrant.
However, be careful with the amount of matcha powder, because we don't want to make it another matcha milk tea. With this limited amount of matcha powder, the matcha taste will be hard to feel. If you don't have matcha powder, consider panda powder or another green food coloring, or simply skip it.
Dairy
I use fresh milk. For an even creamy taste, you can use half and half. Coconut milk and almond milk can also be used for vegan or vegetarian versions.
Tea
I choose jasmine green tea because it has a lighter color so it will not spoil the lovely green color. You can choose either a loose-leaf or a green tea bag. Black tea or other types like oolong tea are not recommended for this one.
Honeydew Milk Tea- Honeydew Boba
Honeydew milk tea is made with honeydew cubes, milk, honey, matcha powder and boba pearls. It has a lovely pale green color, creamy and refreshing in summer.
Ingredients
Honeydew and milk mixture
1/2

honeydew

, cut into cubes, avoid flesh close to the shell

1

cup

milk

1/2

tsp.

matcha powder
Tea base
4

g

jasmine green tea

, or other green teas

1/4

cup

flitered water
Others
1/2

cup

cooked boba pearls

ice cubes

2

tbsp.

honey

, or to taste
Instructions
Cook the boba pearls
Add the boba pearls into a pot of boiling water (at least 5 times of the volumn of boba pearls). Cook for 15 minutes, then turn off the fire and let it sand for another 5 minutes. Transfer out,rinsing under running water to remove extra starch. Then mix with syrup and set aside.
Tea base
I use loose jasmine tea leaves and a red tea bag. Place 2g of jasmine tea leaves in a pot. Add filtered hot water to steep the tea for 3-5 minutes. Strain off the leaves and only get the liquid
Honeydew and Milk Mixture
Cut the hondydew into havles, then scoop the seeds off. Remove the shell of the honeydew and then cut into small cubes.

Transfer to a blender, add matcha powder and milk. Blend until really smooth.
Assemble
Place the boba pearls into two serving glasses (500ml each one), then add ice cubes.

Pour in the honeydew milk mixture until full.

Add honey. Stir before enjoying.
Video
Nutrition
Calories:
373
kcal
Carbohydrates:
81
g
Protein:
6
g
Fat:
4
g
Saturated Fat:
2
g
Polyunsaturated Fat:
0.3
g
Monounsaturated Fat:
1
g
Cholesterol:
15
mg
Sodium:
105
mg
Potassium:
924
mg
Fiber:
3
g
Sugar:
45
g
Vitamin A:
419
IU
Vitamin C:
58
mg
Calcium:
178
mg
Iron:
1
mg