Oreo Boba (Oreo Bubble Tea) 
Oreo's creamy, chocolaty flavor perfectly complements the chewy tapioca pearls, perfect for sweet tooth cravings or a hot day. I tried it recently, and I'm blown away by how something so good is so easy to whip up in just 5 minutes or less! This easy-to-make delicious Oreo boba recipe won't disappoint!
What's the Taste of Oreo Boba?
The taste of the Oreo boba will leave your taste buds craving more. The first thing you taste when you sip this Oreo bubble tea is the chocolaty flavor of Oreos. Milk tea balances the flavor and adds creaminess, so it's not too sweet, but definitely satisfying.
I love the texture of boba pearls in my Oreo boba. They are chewy and slightly sweet. What I love the most about boba pearls in my bubble tea is they are a great way to break up the creaminess of the milk tea.
Next, comes the syrup and Oolong tea. The syrup adds a mild sweet flavor. But, the tea flavor is strong and prominent in the drink. I'm glad that the tea flavor is balanced by the chocolaty flavor of Oreos because I don't like the strong tea flavor in my boba tea.
And last but not least, whipped cream is the cherry on top. So, if you need a chocolaty, chewy, and creamy drink this summer, you should definitely try Oreo boba!
Why I Love Oreo Boba?
I'm a huge fan of boba tea, but if you ask me to name one flavor I'm not getting over very soon is this Oreo Boba. Here are some reasons why I loved it so much!
Easy to make. It takes no more than 5 minutes and easily available ingredients, so it's everyone's cup of tea. You can make it yourself without hassle.
Unique flavor. Classic Oreos and chewy boba pearls give it a unique and hard-to-resist flavor. You'll feel like a cream and cookies milkshake, but it's better.
Versatile. I love this the most about my Oreo boba; it's so easy to customize. I have tried making it with different milks and different toppings.
Perfect for every occasion. Whether you're looking for a refreshing treat on a hot summer day or for a kid's party, it's always a good choice.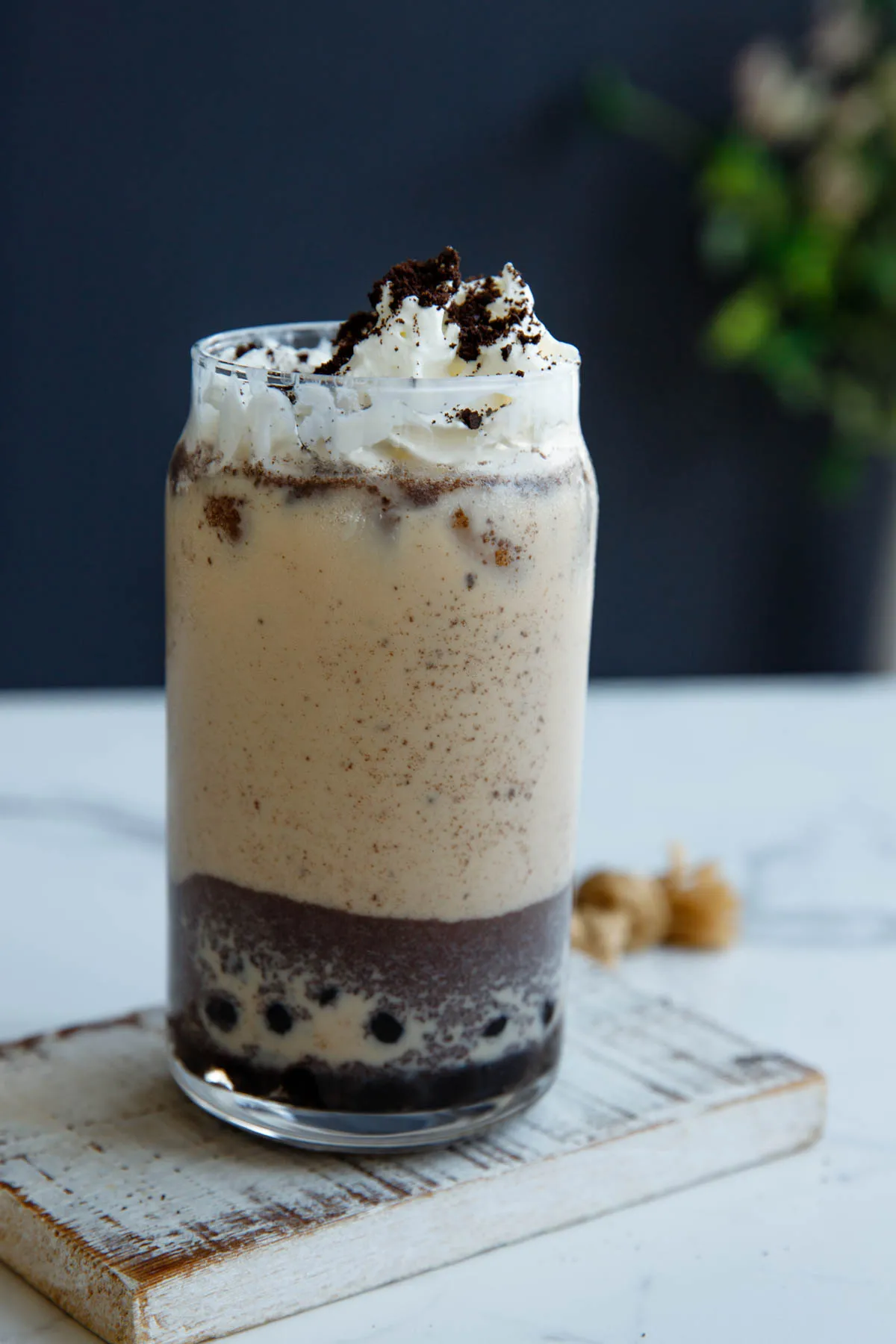 Ingredients
I'm glad that this heavenly drink needs just 5 simple ingredients to make a perfect cup of Oreo boba at home.
Oolong Tea
Oolong tea is a traditional Chinese tea that's used for a caffeine boost in your Oreo boba. It's not as strong as black tea, but still, the rich earthy and smooth, mellow flavor makes it a great addition. You can also use black tea or green tea if you don't like its flavor.
Oreos
Without a doubt, Oreos are the star ingredient in Oreo boba for any chocolate lover. They are chocolaty, creamy and add unique crunchiness to the bubble tea.
Milk
Want a creamy texture of your boba tea? Full-cream, low-cream, dairy, or non-dairy, the choice completely depends on how you like your boba tea. Non-dairy options like coconut, soy, and almond milk will also work great.
Black Boba pearls
Also known as tapioca pearls, black boba adds an appealing and satisfying texture to the drink. The bouncy and chewy texture is more prominent if you use fresh boba pearls.
Syrup
The syrup adds the desired sweetness to Oreo bubble tea. You can use any syrup you like that can pair perfectly with the flavor of Oreos. Simple syrup is made by dissolving equal parts of granulated sugar and water in a saucepan until reaching a thin honey-like texture. But you can also use brown sugar syrup or lychee syrup.
Oreo Boba – Oreo Bubble Tea
How to make Orea boba – oreo bubble tea at home
Ingredients
2

tbsp.

dry boba pearls

water for boiling

1

tbsp.

syrup
tea base
1

tea bag

green tea, oolong tea or black tea

150

ml

hot boiling water
Oreo Milk shake
2

Oreo cookies

ice cubes

1

cup

milk

tea base
Instructions
Cook the Boba Pearls
In boiling water, add boba pearls and cook for 5 or 20 minutes (read the time requirment on the pacakge). Stir at the very beginning to avoid them sticky to bottom.

Once boba pearls are fully cooked. Rinse under running water to remove extra starch. Then mix with syrup, either brown sugar syrup or simple sryrup. Or if you don't have syrup by hand, mix with white sugar or brown sguar.
Make the Oolong Tea (can be replaced by other tea)
Add hot water to Oolong tea bags (190-200°F or 87-93°C) and keep for 3-5 minutes.

You can also use Oolong tea leaves if you for a deeper flavor. Or any other tea bags you want.

Once the color of the tea appears, remove the tea bag and allow the tea to cool at room temperature.
Prepare the Oreo Milk Tea Shake
Crush Oreos using a muddler in a cup.

Add some ice cubes, and then add some milk.

Now, pour the cooled oolong tea into the Oreo milk mixture.

Shake everything well for 1-2 minutes to prepare a smooth Oreo milk tea mixture.
Assemble
In the serving glass, add the cooked boba pearls.

Pour some syrup, and finally, add the Oreo milk tea mixture.

Top with some whipped cream, oreo crumbs and one whole Oreos.

And Yum! Your delicious Oreo bubble tea is ready to serve.
Video
Nutrition
Calories:
300
kcal
Carbohydrates:
40
g
Protein:
9
g
Fat:
12
g
Saturated Fat:
6
g
Polyunsaturated Fat:
1
g
Monounsaturated Fat:
4
g
Trans Fat:
0.01
g
Cholesterol:
29
mg
Sodium:
195
mg
Potassium:
422
mg
Fiber:
1
g
Sugar:
33
g
Vitamin A:
396
IU
Calcium:
307
mg
Iron:
3
mg
Variations
Just to ensure you don't get bored trying the same flavor, here are some variations of Oreo boba that you can try.
Taro Oreo Boba
First created by the Ten Ren brand, it's a popular Oreo boba flavor in Taiwan. A perfect blend of Oreos, taro milk tea, and boba pearls. The taro gives it a rich flavor that perfectly complements the crunchy and chocolaty flavor of Oreos.
Purple Oreo Boba
This newer Oreo boba flavor is getting popularity for the right reasons – I mean, it's Sooo good that nobody can resist. I was hooked by the flavor of the ube milk tea and how well it goes with the classic flavor of Oreos.
Strawberry Oreo Boba 
If I have to name one flavor of Oreo boba that people of all ages can enjoy, then I'll say this strawberry Oreo boba. It's made with delicious Oreo milk tea that adds so much to the flavor of the Oreo boba. The fruity flavor of the strawberry milk adds a dense flavor to the recipe.
Oreo Milkshake Boba 
If you're someone who prefers classic flavors, then this Oreo milkshake boba is for you. The best part is you can make it with or without tea. Either way, this creamy and chocolaty treat is sure to impress everyone.
Chocolate Oreo Boba
A chocolate-loaded Oreo boba for chocolate lovers! Based on your preference, you can add white or dark chocolate to your drink. It's slightly sweeter than other types, but you can control sugar content by avoiding sweeteners.
Matcha Oreo Boba 
If you want to try a unique and exciting flavor of Oreo boba, then this matcha Oreo boba will not disappoint. It's perfect for people who love matcha and boba. Also, it's super refreshing and healthy; so you can never go wrong with this one.
FAQs
How many calories are in Oreo boba tea?
You get 355 calories per serving of Oreo boba tea.
How long can Oreo bubble tea last
I always recommend assembling Oreo boba right before consuming it. Because I found that fresher Oreo boba tastes better than leftover.