Passion fruit has a gorgeous purple or yellow exterior with orange pulp on the interior which is sweet, tart, and tangy all at the same time. While it is delicious as it is, I love to turn it into syrup to infuse into beverages, salad dressings, and more. Turning passion fruit into syrup means you can use it in many different recipes. 
What's Passion Fruit?
Passion fruit sometimes spelled passionfruit is a tropical fruit that grows all over the world in warmer places such as South America, Australia, parts of Africa, and more. There are several types of passion fruit, such as ones that have yellow skins and ones that are purple. I particularly love the purple ones for their vibrant color, but internally, they look the same.
The inside passion fruit pulp includes orange pulp and black seeds, which are both edible. It is incredibly versatile and can be used in oodles of recipes from sweet preparations like cakes to breakfast foods like smoothies. I find that passion fruit syrup is one of the best ways you can use passion fruit because it is amazing in so many preparations such as in sweet and sour vinaigrette or homemade lemonade. It is also wonderful for brushing on layers of cake to ensure they don't dry out because you don't want that.
Passion fruit has a similar taste to mango and pineapple in terms of sweet and sour taste. But it is much sourer. Ripe passion fruits have wrinkly shells.
Why Should You Make Passion Fruit Syrup at Home?
Some syrup brands like Torani produce Passion Fruit flavored syrup. But the homemade version is much more real and safer.
While passion fruit syrup may seem daunting to make, don't be discouraged! You will actually find it is among the easiest foods to make as it includes only three ingredients and very little cooking.
I think that passion fruit syrup is one of the best ways to enjoy sweet and tart passion fruit because it eliminates the seeds, which are not always appealing to eat even though they are edible. All you have to do is combine pureed passion fruit with sugar and water, in a pot on the stove to meld all the flavors together, and then strain it through a fine-mesh strainer so you only have syrupy goodness at the end.
You can use the finished syrup to replace simple syrup in tasty cocktails, chilled homemade lemonade for a fruity twist, and as a flavoring for water (for all of you picky water drinkers). I also like to include it in vinaigrettes with a little bit of white wine vinegar, EVOO, honey, briny Dijon mustard, and s & p. It has the perfect combination of tart and sweet to compliment greens like arugula, spinach, and/or kale.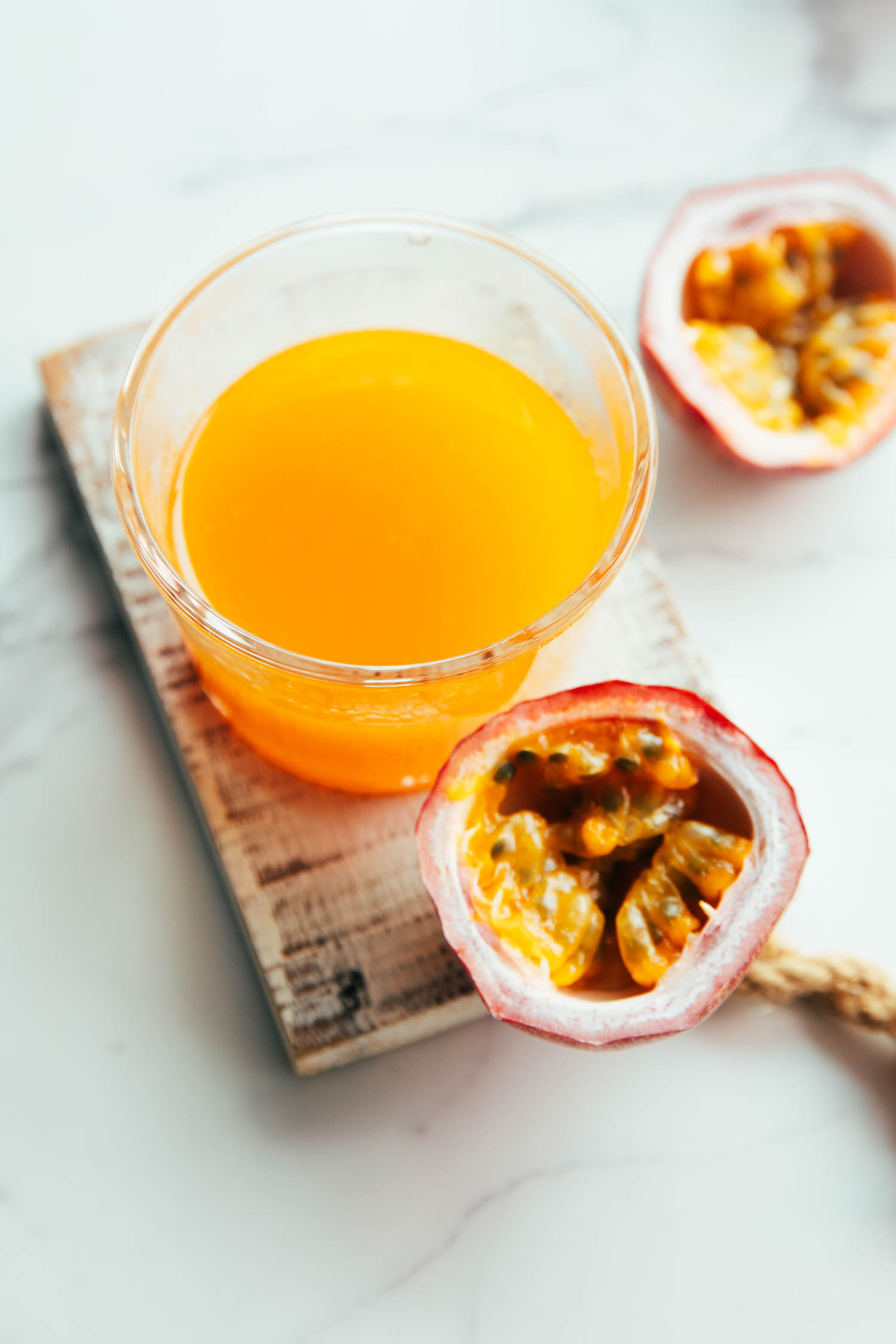 What Does Passion Fruit Syrup Taste Like?
Passion fruit syrup has a very similar taste to the fruit, but it has even more sweetness and a syrupy, sticky texture. The sweet syrup has a slight tanginess and zing that makes it wonderful in a variety of sweet and savory preparations.
How to Use Passion Fruit Syrup
I adore using passion fruit syrup in so many different ways and in both sweet and savory ways. Here is how you can use it
Whatever type of layer cake you want to make, such as vanilla or chocolate, brush or spoon the syrup over the cake layers so they taste like passion fruit and prevent them from drying out.
Stir some of the syrupy goodness into freshly squeezed lemon juice to sweeten the lemonade and add a tropical taste.
Whisk it into a bubble tea blend. I love to recommend one of my favorite passion fruit mango drinks, that's passion fruit mango boba. By combining passion fruit, mango, green tea liquid, and tapioca pearls, you will get a lovely yellow color, sweet and sour in taste fruity boba drinks.
Passionfruit syrup pairs with ice cream beautifully! Just drizzle over top and let the orange syrup mix in with the melting ice cream.
Blend the syrup with cold water or sparkling water for a fruity beverage.
You can add some warm water and make it a passionfruit juice in just 5 minutes.
If you have a fruit salad, this syrup can be used as a drizzling too.
Or brew some tea and make a passion fruit iced tea drink.
How Long Can You Keep Passion Fruit Syrup in the Fridge?
You should store your passion fruit syrup in a jar in the refrigerator so it will keep for a while. Overall, it should keep for 2 to 3 weeks. Its long storage time can be attributed to the quantity of sugar in the syrup.
If you make a larger batch, you can choose to place it in a small container and then place it in the freezer. In this form, it can be kept for months.
This syrup can be kept for 3-4 days at room temperature. But placing it in the fridge with an airtight jar or bottle is a much smarter choice.
Ingredients in Passion Fruit Syrup
Just three ingredients are all you need to make this passion fruit syrup, which is sweet, sour, and tangy.
Ripe passion fruit pulp
The first and most integral ingredient is passionfruit pulp, a tropical-tasting fruit that has an orange inside that is speckled with black seeds. All you have to do to use the passionfruit is to slice it in half and remove the flesh on the inside with a spoon. The seeds can go into the pot with the other ingredients because they get strained out after the syrup mixture simmers on the stove for a bit. You can even use other fruit or berries as a replacement for passion fruit in this syrup, although I recommend that you blend them into a puree so that they can mix into the syrup more easily.
Sweetener- sugar
The second component of this syrup recipe is sugar, specifically white granulated sugar, which gives the syrup its consistency and sweet taste. You could replace the sugar with honey if you are looking for a healthier halo to the recipe but it is often more expensive.
Water
Water is the third ingredient and essential to helping the syrup reach the correct fluidity. If possible, use filtered water for the best result.
Variations
In addition to pure passion fruit syrup, you can combine mango juice or pineapple juice in to make passion fruit mango syrup or passion fruit pineapple syrup. They all have a fabulous light yellow color. A much better yellow coloring made from natural real fruit other than artificial ingredients.
Passion fruit syrup
Homemade passion fruit syrup can be a dreaming colored syrup with lovely yellow color.
Ingredients
6

ripe passion fruits

1/2

cup

water

1/2

cup

granulated white sugar

other sugar you perfer like pure cane sugar 
Instructions
Cut the passion fruit in half. Remove the inner pulp and seeds out, and place it in a small saucepan.

 Stir in the water and sugar until combined; simmer the mixture, while stirring, until the sugar dissolves.

Pour the syrup mixture through the strainer over a bowl. This will remove the seeds and fine residue from the syrup.

Add the syrup to a glass jar and cover it with a lid. Allow it to cool down before you refrigerate it or it may warm up the fridge. You should be able to keep the syrup for a couple of weeks.
Video
Frequently Asked Questions (faqs)
Can you find passion fruit easily?
Passion fruit should be available in almost store or market where you get groceries. If you can't find it where you normally shop, see if you can locate it in a specialty store instead.
Is it easy to make passion fruit syrup at home?
Is it easy to make passion fruit syrup at home?
A: Yes, all you have to do is combine the passion fruit with water and your choice of sweetener (such as sugar) in a pot and simmer it until the sugar is dissolves. Then, strain it through a strainer (preferably fine mesh) into a bowl before storing it in the fridge. 
What's next
I hope you will enjoy this passion fruit syrup recipe, and if you have any creations about how to use it, stay in touch on Instagram and facebook. We love to see your creations. It can be a lovely addition to other types of colored syrup in your kitchen.