Watermelon Boba, also known as Watermelon Bubble Tea, has become a beloved and refreshing drink. This delightful twist on traditional teas combines the sweetness of watermelon with the texture of boba pearls. Lovely ideal summer drink.
Watermelon Boba has captured the hearts of both kids and adults alike as you can experiment with endless toppings and flavors to match your taste. In this guide, we will provide step-by-step instructions for preparing the perfect Watermelon Boba, as well as explore the key differences between this fruity concoction and other classic bubble teas. Get ready for a delightful and refreshing experience with Watermelon Boba!
How is Melon Boba Different From Classic Ones?
The Watermelon Boba has a distinctive flavor over the traditional classic bubble tea. Unlike the classic boba tea which features milk and other fruits, melon boba solely highlights the taste of watermelon. Melon Boba boosts a refreshing taste creating a special treat for the taste buds. Its mild aroma and caramel-like sweetness set it apart from other boba flavors.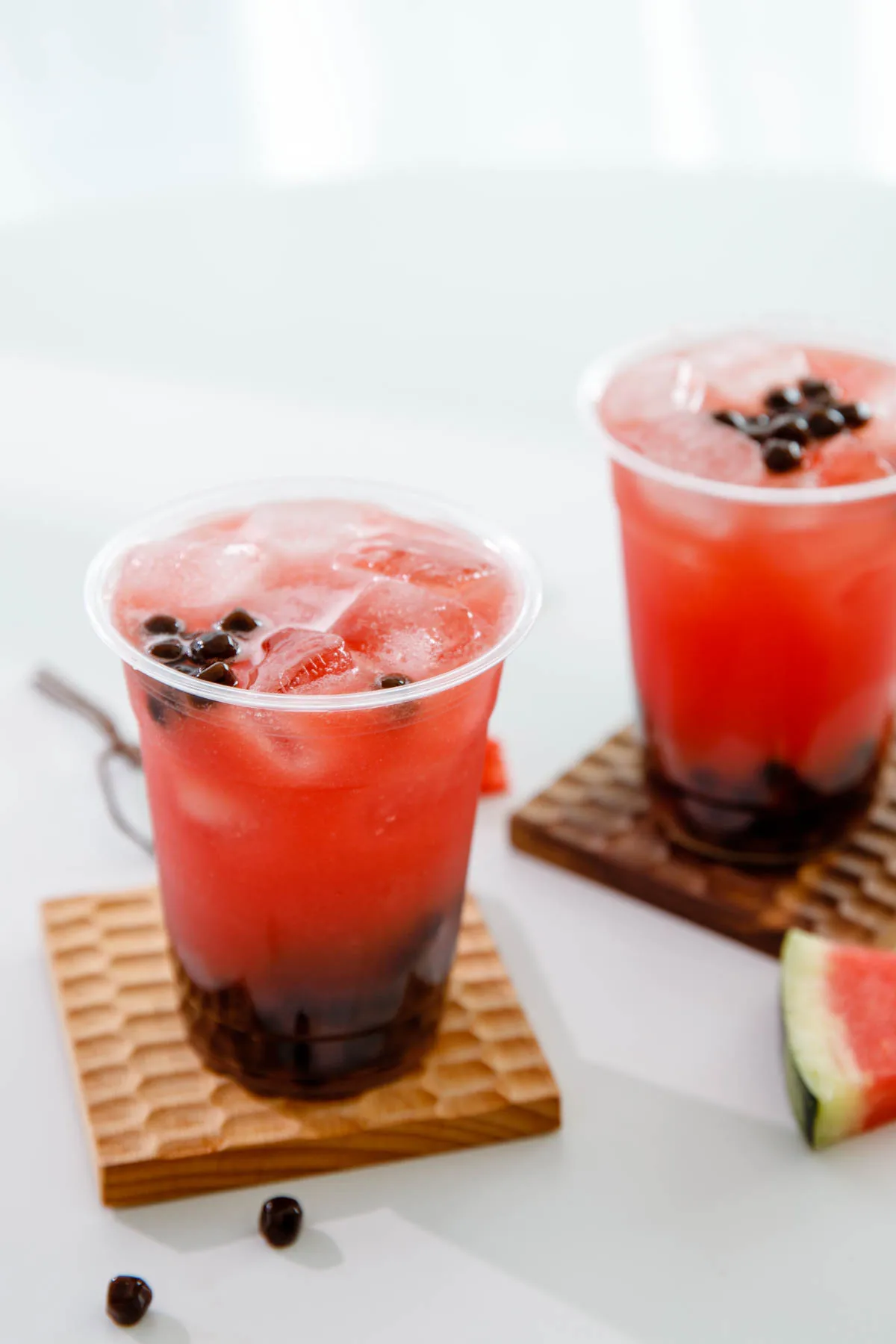 The basic texture of melon boba remains similar to classic boba beverages. It includes signature boba pearls and other customizable ingredients based on personal preferences. By adding an extra layer through an infusion of watermelon juice, it adds a burst of flavors that makes this boba extra delicious.
Beyond the delicious taste, this unique drink is often considered a healthier option when compared to other boba beverages. It is packed with vitamins and antioxidants that help in blood sugar management, maintain weight, and fight inflammation. You not only indulge in a delightful drink but it also nourishes your body.
Why not add milk to Melon Boba?
Melon boba is a perfect way to combat the summer heat and chill out. This fruity beverage originated in Southeast Asia. What makes it different from other boba beverages is the absence of milk.
This bubble tea doesn't contain any milk or dairy, unlike the classic ones like dirty boba, matcha milk tea and brown sugar milk tea. No condensed milk, non-dairy creamer, and dairy milk work with refreshing melons. Also, the milk often starts curling and coagulates when added to this bubble tea. 
To maintain the authentic flavor of the drink it is advisable to avoid adding any dairy products. Instead, this melon boba drink is more of a watermelon boba slushie than a milk-based beverage.
Ingredients
To prepare a delightful batch of watermelon boba, you'll need a few key ingredients:
Watermelon
Go for a uniform-sized oval or oblong watermelon and avoid elongated melons, as they make bubble tea watery and less sweet. Look for orange field spots on the opposite side of the stem and never choose dull-looking melons as they indicate maturity and ripeness.
Coconut Water or filtered water
Since the natural flavor of the Watermelons are sweet, and refreshing hence, avoid adding any sugary substance to the drink. You can instead use coconut water to make a consistent slushie. If you want to be more experimental with the flavor replace coconut water with honey, brown sugar, or maple syrup to add some variation.
Tapioca Pearls
Topical pearls are a staple for a bubble tea beverage. You can opt for traditional boba (tapioca pearls) or other similar toppings, like flavored boba, popping boba, or jelly boba. 
Syrup for coating the tapioca pearls
After cooking the tapioca pearls, mix them with syrup to avoid sticky. And since the boba pearls contains sweetener, I skip any other syrup for this watermelon boba.
You can also choose to use popping boba or crystal boba to replace classic tapioca pearls.
Watermelon Boba
Watermelon Boba, super easy, only 3 or 4 ingredients
Ingredients
2

cups

watermelon cubes

2

cups

coconut water or filtered water

1/4

cup

dried tapioca pearls

2

tbsp.

syrup for coating the pearls

ice cubes
Instructions
Cook the boba pearls
Add the boba pearls into a pot of boiling water (at least 5 times of the volume of boba pearls). Cook for 15 minutes, then turn off the fire and let it sand for another 15 minutes. Transfer out, rinsing under running water to remove extra starch. Then mix with syrup and set aside.
Assemble
Cut the watermelon into small bite size cubes.

Now in a blender, add the cubes and the coconut water. Keep blending the mixture until it transforms into a smoothie.

Further, take serving glasses and add tapioca pearls as well as ice cubes, followed by the watermelon slush.

Mix well and use a wide bubble tea straw to enjoy the delightful flavors.
Nutrition
Calories:
217
kcal
Carbohydrates:
54
g
Protein:
1
g
Fat:
0.5
g
Saturated Fat:
0.1
g
Polyunsaturated Fat:
0.1
g
Monounsaturated Fat:
0.1
g
Sodium:
10
mg
Potassium:
222
mg
Fiber:
4
g
Sugar:
18
g
Vitamin A:
1175
IU
Vitamin C:
37
mg
Calcium:
20
mg
Iron:
1
mg