Konjac Boba – The Plant-Based Bubble Tea Boba Alternative
If you are a boba lovers, you may heard of lots of boba terms, from the traditional tapioca pearls to popping boba. In this post, we will learn what's Konjac Boba. Konjac boba belongs to the family of crystal boba and only refer to those pearls made with konjac powder other than agar powder.
In general, Konjac boba offers a healthier, low-calorie plant-based alternative to classic boba pealrs while mimicking the same bubbly texture.
What is Konjac Boba?
Konjac boba (also called konjac jelly or sometimes crystal boba) refers to small jelly-like balls made from konjac powder that is meant to replace tapioca in bubble tea drinks.
The main ingredient is konjac powder or glucomannan from the Asian konjac tuber. Konjac boba contains very few calories compared with tapioca boba.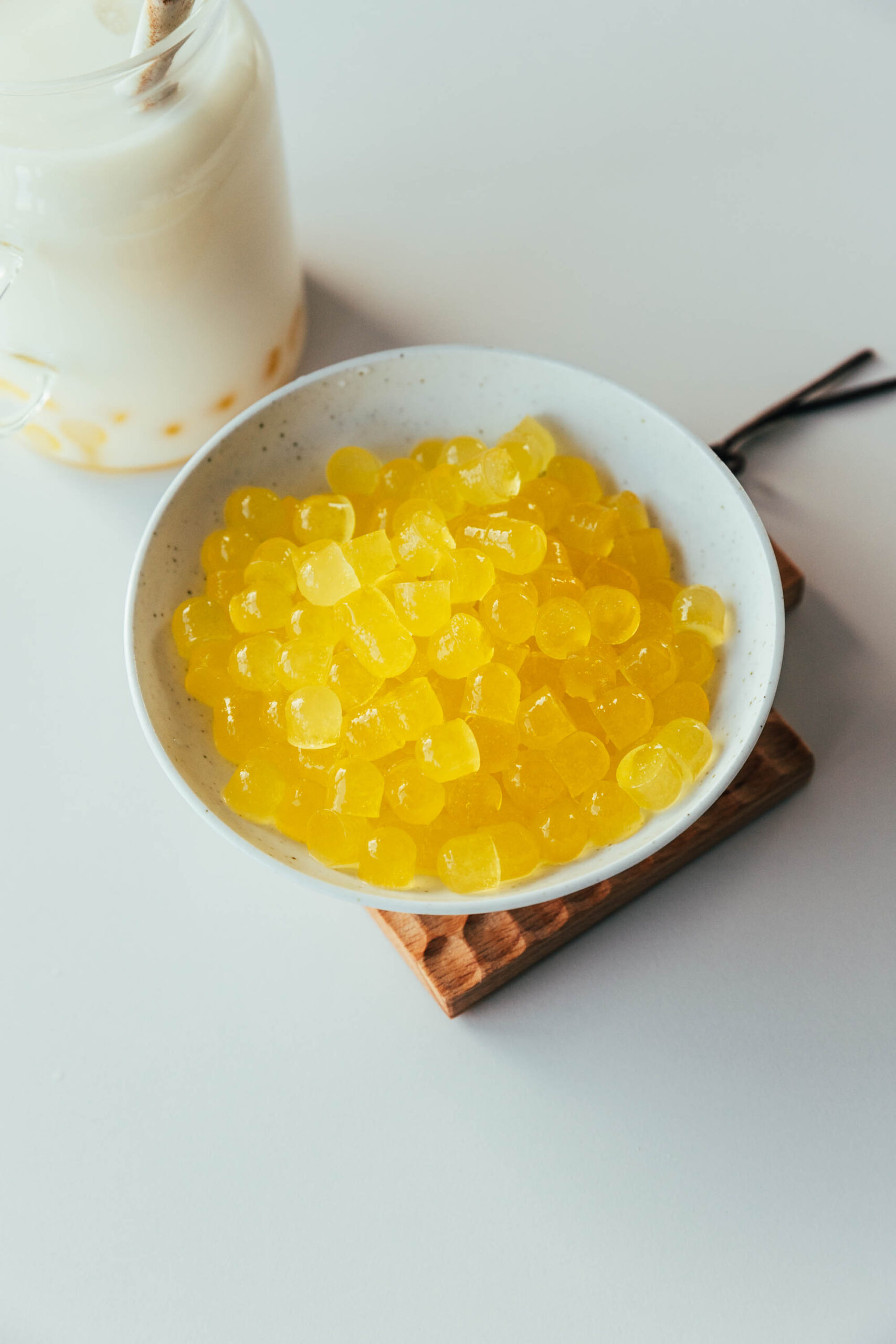 What does konjac boba taste like
Konjac boba tastes totally different from plain and regular tapioca pearls. It is less chewy than regular tapioca pearls, instead bouncy is the key texture of konjac boba.
Knojac boba is often infused with fruit juices or sweeteners for flavor and color. For example, brown sugar might be used as both a sweetener and coloring ingredient to make brown sugar konjac boba which is a popular type.
If you make konjac boba with fruit juice, it can provide fiber, antioxidants, and vitamins, making it a much healthier option than regular tapioca pearls.
Ingredients for homemade Mango Konjac Boba
Let's take mango Konjac boba for example, you only need 4 ingredients to make mango konjac boba at home: water, fresh mango, konjac powder and sugar.

About sweetener and flavor
Sugar is optional because ripe mango has a very faint sweetness. But make sure you use sugar if your mango is sour.
To make other flavors, simply replace mango with strawberry, lychee or other fruits to customize the taste the flavor.
Tools for Konjac boba
To make the perfect shaped konjac boba, you will need a crystal boba mold with a scraper. If you cann't find it, just set the mixture until firmed and cut into boba sized pieces.
Make mango juice first
Use a blender to blend 250ml water with mango cubes, then you get perfect mango juice.
Mix the juice with konjac powder and sugar
Pour in the juice, 2 tbsp of powdered sugar and 3 tbsp of konjac powder into a saucepan. heat the mixture to boiling while mixing them with a scraper until all powdered ingredients are thoroughly resolved. let the mixture simmer for 3 minutes.
Pour the mixture into a mould
Skim off the scum and transfer the mixture out to pour into the molds. Use a scraper to spread the liquid to cover each of the holes. Be quick in this process.
Tips to make your konjac ball more crackling
Let it stay in the mould for 10 minutes until firmed. Take the mango crystal boba out and soak in iced water.
Use konjac balls in a boba
Put the konjac balls into a clear cup, then pour in 1 cup of boiled green tea and 1 cup of milk. Add syrups to taste and/or ice cubes in hot days.
How to make mango crystal boba
Easy to make mangocrystal boba at home with agar powder or konjac powder.
Equipment
1 round molds

1 Scraper

1 sauce pot
Ingredients
250

ml

water

2

tbsp.

powdered sugar

3

tbsp.

konjac powder

1/4

cup

mango cubes

2

tbsp

syrup

or to taste
Instructions
blend 1/4 cup mango with 250 water to make mango juice

Pour mango juice to a sauce pot, add sugar and konjac powder and mix them well. Start the fire and bring it to a boiling.

Let it simmer for 3 minutes and skim off the scum

Transfer out and pour into the molds. Use a scraper to spread the liquid to cover each of the holes. Be quick in this process.

Let it stay for 10 minutes until firmed. Take the crystal boba out and soak in iced water.
Notes
Note 1: if you don't have the molds, alternatively, to form them into mini rectangles or cubes do this before letting the jelly mixture cool:
Pour the jelly mixture in a square silicone mold or baking tray. Let the liquid jelly cool.
Leave the crystal boba mixture undisturbed at room temperature for 10 minutes.
After 10 minutes, check if the mixture has fully set.
Once the jelly has set, cut them into small rectangles (that will fit through a boba straw) for an easy crystal jelly. You can draw a grid pattern of about .5" per rectangle for uniformity.
Unmold the rectangular jelly to a plate and then cut into small cubes. 
Nutrition
Calories:
264
kcal
Carbohydrates:
69
g
Protein:
0.3
g
Fat:
0.3
g
Saturated Fat:
0.04
g
Polyunsaturated Fat:
0.03
g
Monounsaturated Fat:
0.1
g
Sodium:
41
mg
Potassium:
70
mg
Fiber:
1
g
Sugar:
68
g
Vitamin A:
446
IU
Vitamin C:
15
mg
Calcium:
18
mg
Iron:
0.1
mg
Nutrition Profile of Konjac Boba
The nutrition stats reveal why konjac boba is considered a lower-calorie option:
Konjac boba nutrition (per 100g):
Calories: 13
Fat: 0g
Carbs: 3g
Protein: 1g
Fiber: 2g
Tapioca boba nutrition (per 100g):
Calories: 100
Fat: 0g
Carbs: 23g
Protein: 0g
Fiber: 0g
With 10x fewer calories and higher fiber content, konjac boba can be a smarter bubble tea choice.
Konjac Root Benefits
Konjac boba's nutritional boost comes from its main ingredient – konjac root flour. Native to East Asia, konjac root offers health benefits:
Rich in glucomannan fiber – accounts for 40% of konjac root. This viscous soluble fiber has been linked to improved cholesterol, blood sugar levels, and weight control.
Contains antioxidants – Konjac is high in antioxidant compounds like glucosamine that combat free radicals.
Provides vitamins and minerals – notably B vitamins, vitamin C, potassium, zinc, and magnesium.
Has potential probiotic properties – evidence shows konjac may support digestive health via beneficial effects on gut microbiome.
So alongside a better calorie and carb profile, konjac boba adds extra nutrition from the properties of the root.
Varieties of Konjac Boba
There are a few popular varieties and flavors of konjac fruit jelly boba:
Original – translucent white balls with a mild natural konjac taste. Most versatile for pairing with milk teas.
Mango – Popular tropical flavor, yellow-orange hue.
Strawberry – Bright pink pearls taste like juicy strawberries.
Peach – Light orange with sweet floral peach essence.
Passionfruit – Slightly tart purple passionfruit infusion.
Chia seeds – Some feature blended chia for added nutrition.
Konjac jellies are also available in coffee, matcha, chocolate, taro, and other flavors.
Konjac Boba vs. Tapioca Boba
How does Konjac boba stack up against traditional tapioca boba? Here's a side-by-side comparison:
| Quality | Tapioca Boba | Konjac Boba |
| --- | --- | --- |
| Ingredient | Tapioca starch from cassava | Konjac flour from Asian tuber |
| Texture | Chewy, gummy | Chewy, gummy |
| Flavor | Subtly sweet | Neutral or fruit flavored |
| Appearance | Opaque colored balls | Clear/translucent jelly balls |
| Calories | Higher (100 per 100g) | Very low (10 per 100g) |
| Nutrition | None, no fiber | Fiber, vitamins from konjac |
The biggest differences are Konjac Boba's lighter mouthfeel and nutrition profile. But they mimic tapioca boba's bubbly chew.
Best Bubble Tea to Pair With Konjac Boba
Konjac fruit jelly pearls pair best with lighter, more delicate milk teas:
Classic milk teas – Black, green, jasmine, Thai, matcha milk tea.
Fruit tea – Mango milk tea, peach, passionfruit, strawberry milk tea, lychee boba tea.
Floral teas – Rose, chamomile, lavender, chrysanthemum
Konjac boba's neutral flavor allows the tea itself to shine rather than compete with overly sweet syrupy drinks.
Are There Any Downsides to Konjac Boba?
While generally safe, a few precautions apply:
Due to gel texture, ensure proper chewing – don't swallow konjac whole.
Limit portion size – Konjac is very filling and may cause stomach discomfort if over-consumed.
Those with trouble swallowing should avoid konjac boba.
Allergy risk – Konjac may cause reactions in those allergic to mushrooms. Discontinue if any irritation.
When enjoyed in moderation and chewed properly, most people tolerate konjac boba well. But listen to your body.
Frequently Asked Questions
Where can I buy or try Konjac boba?
Konjac boba can be found at some bubble tea shops and Asian grocery stores. Popular pre-made brands include Bobaverse, Bubble B's, and The Boba Plug. Or purchase Konjac powder to DIY!
Is Konjac boba really that much lower in calories?
Yes, the calorie difference between konjac boba and tapioca boba is significant – only 10 calories per 100g vs. 100 calories. This is because konjac is over 90% water. So Konjac boba is far lighter.

Does konjac boba taste the same as regular boba?
The mouthfeel of the two is very similar – both have a satisfying chewy, bouncy texture. However, the flavor is more neutral with konjac. It absorbs rather than competes with the tea and milk flavors.
Can you make Konjac boba at home?
Yes, you can make DIY konjac fruit jelly at home with just konjac powder, water, sugar, and fruit juice. Homemade versions may differ slightly but provide the cost savings of bulk konjac powder.

Is Konjac Boba just a trend or will it last?
Early indications show Konjac Boba has real staying power, not just as a trend. Customers enjoy the familiar chewy texture but lighter calories and nutrition. Konjac satisfies the boba taste while allowing customization.
Afterthought.
More bubble tea lovers are choosing plant-based konjac boba over starchy tapioca for its significantly fewer calories and added fiber and vitamins. Next time you order boba, try konjac jelly or konjac boba.